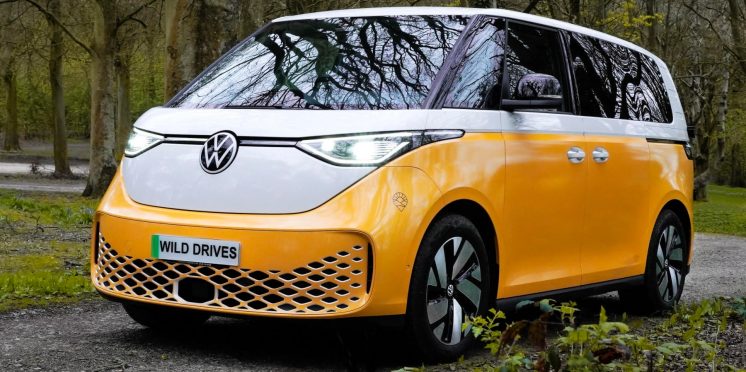 First VW ID.Buzz camper van for hire in UK
A UK camper van hire company is the first to offer a 'hireable' conversion of the award-winning all-electric Volkswagen ID.Buzz.
Wild Drives, one of the first exclusively electric campervan hire companies, is now taking bookings in the retro-modern sensation from £150 per night.
The conversion of the interior was carried out by East Sussex-based artisan van converters, Love Campers – a company well known for its handcrafted, eco-conscious builds.
The ID.Buzz campervan features a space-saving slat bed alongside an attractive kitchenette, which includes a clever induction hob, a sink and a fridge.
The interior is made with a modern ply laminate and bamboo for a bright and retro feel.
On top of its undeniable good looks, the van offers a powerful lithium battery and a solar panel system on the roof, making the camper functional as a totally off-grid experience without burning fossil fuels.
The result is claimed to be one of the most sustainable and nature-friendly travel experiences in the world.
With a classic profile reminiscent of the classic VW T2 camper, the ID.Buzz marries old school charm with modern technology, not to mention the practicality of a MPV, with the comfort of a premium SUV and the low running costs of an electric vehicle.
With a WLTP range of 208 miles and a charging time of 5%-80% in 30 minutes, the ID.Buzz is well-suited to long distance adventures.
What Car? crowned the ID.Buzz its Best Large Electric Car of the year, as well as overall Car of the Year for 2023.
News in association with www.automotiveblog.co.uk
Photo credit: Claire Waddell
---