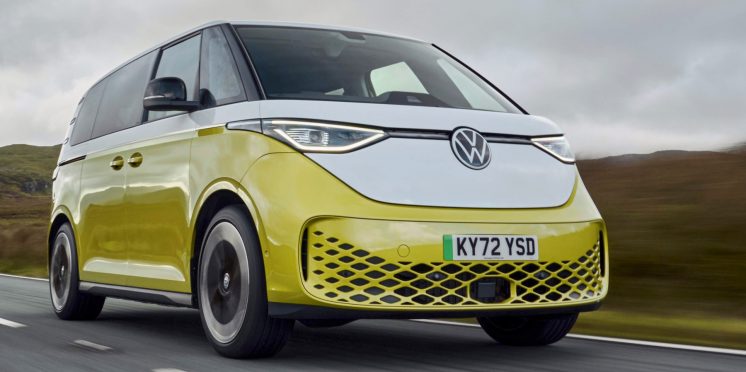 Volkswagen ID.Buzz review: Icon reborn as an epic EV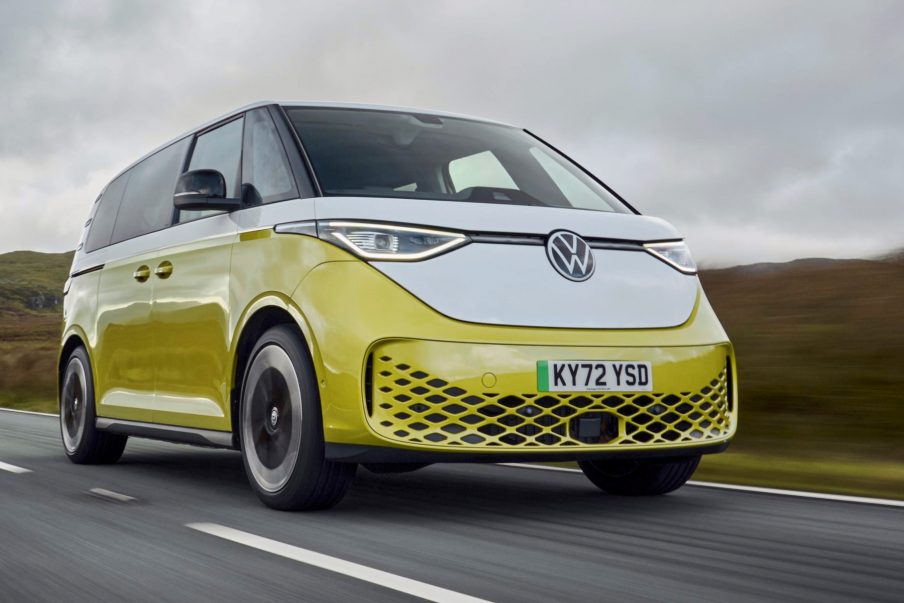 If the success of a new vehicle could be judged purely on kerb appeal and cult status, then the Volkswagen ID.Buzz is a winner.
This retro-cool reboot of the iconic VW camper generated more interest and positive comments from complete strangers during my road-test week than just about anything else I've driven over the last few years.
But here's the thing – the 100% electric ID.Buzz isn't just eye candy. Underneath that captivating exterior is a practical people carrier that's easy and fun to drive.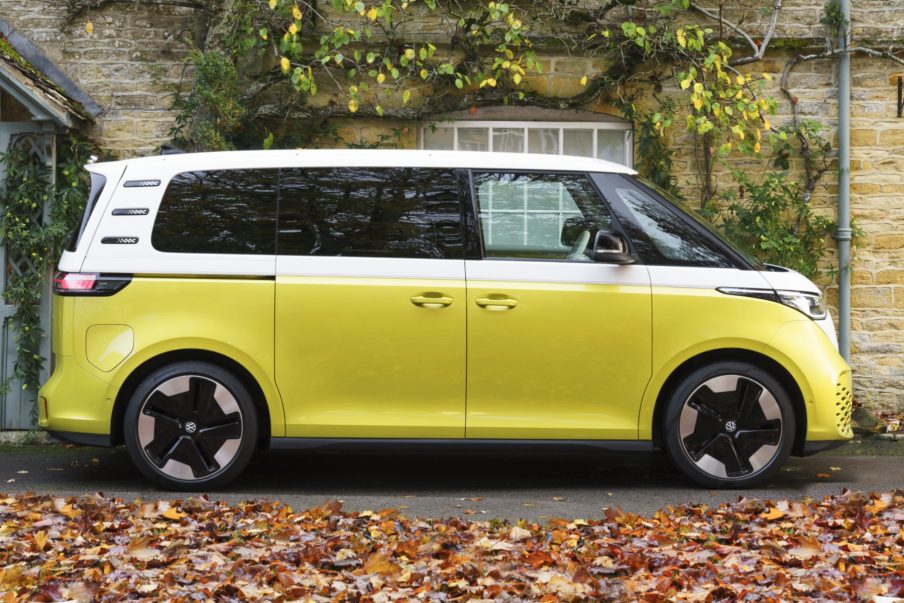 At launch, this eco minibus has five seats and features a 150kW electric motor powered by a 77kWh battery pack that delivers its power to the rear wheels. There's also a cheaper commercial version (marketed as the ID.Buzz Cargo Van).
Sharing its underpinnings with the smaller ID.3 hatchback and ID.4 and 5 crossovers, it has a claimed range of up to 258 miles (closer to 200 miles in real-world driving).
With a charging power of up to 170kW, it's possible to replenish the battery from 5-80% in as little as 30 minutes (using a rapid 150kw connection), and if you have a home wallbox it will charge overnight.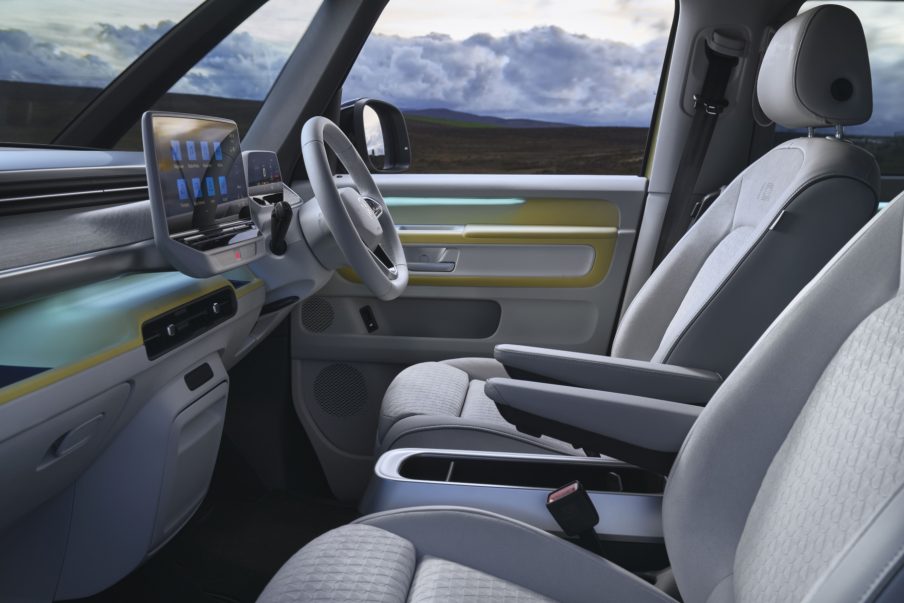 If you're familiar with Volkswagen's ID family of EVs, you'll recognise the minimalist front cabin which features a large central touchscreen and a 'twisty knob' gear selector positioned behind the steering wheel.
Sadly, this infotainment system is not without its critics. Too many of the vehicle's main functionality is accessed via the touchscreen (including climate control), while the touch sensitive sliders below and on the steering wheel are fiddly.
Thankfully, the electrically adjustable driver's seat is comfortable with a commanding driving position, offering an expansive view of the road ahead. There's plenty of glass around the rest of the ID.Buzz too, so with the help of the reversing camera, manoeuvring isn't as challenging as you might think. What's more, it has a turning circle of just 11.1 metres.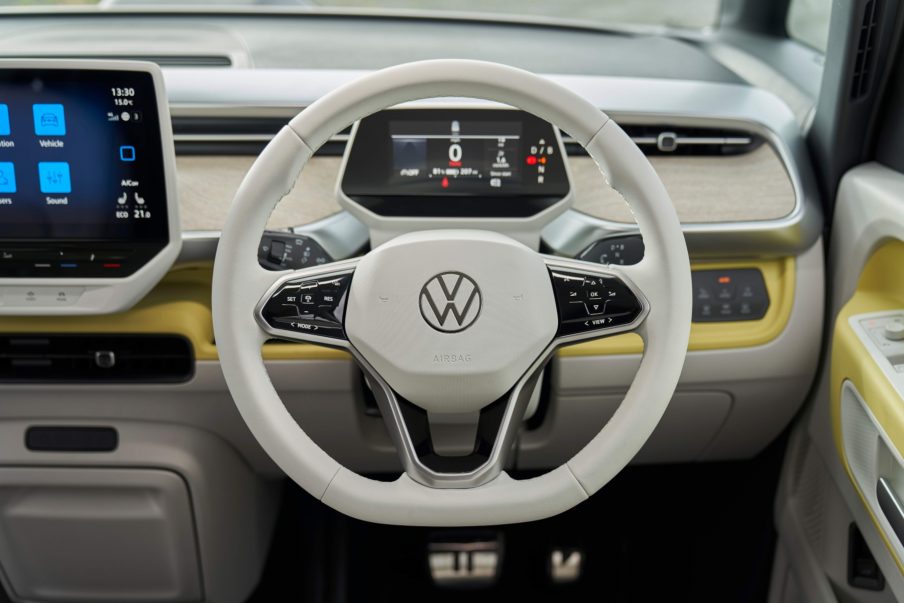 My test car also came with Park Assist Plus which can memorise up to five individual parking manoeuvres – such as you backing into your garage. All you do is park up, save the spot, and it will park itself automatically next time.
On the road, the ID.Buzz is amazingly nimble for its size (L= 4,712mm, W= 2,211mm x H= 1,937mm) and weight (up to 3 tonnes).
There's something uncanny about driving a van-sized vehicle with instant torque that can accelerate from 0-62mph in just 10.2 seconds. The look on other drivers' faces as you floor it to overtake is priceless – and it feels swifter than the official acceleration figure suggests.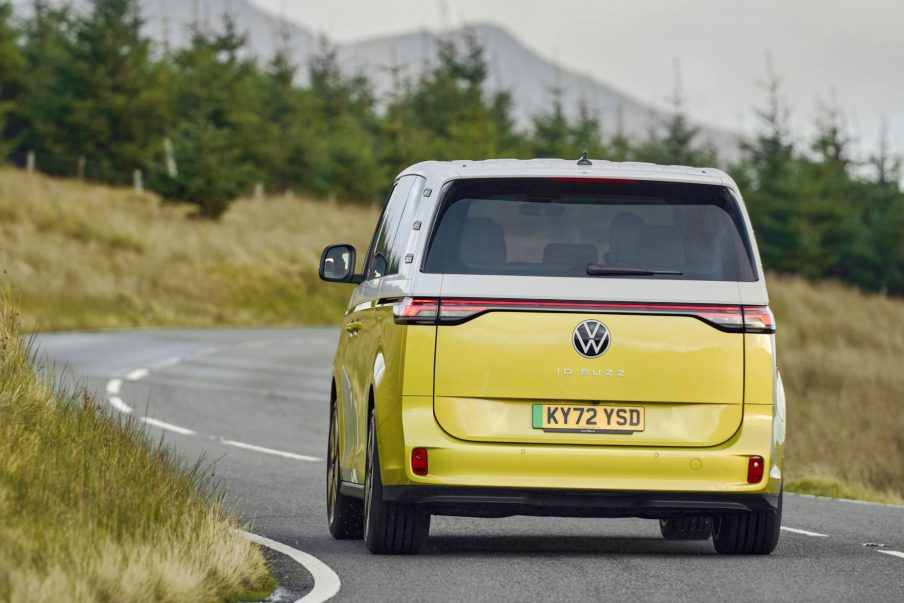 There are various drive modes (eg Eco, Comfort and Sport). Inevitably, Comfort is just fine for everyday motoring, because Eco dulls the driving experience and Sport is just fine for energy-sapping short bursts of fun. In fact, the only noticeable difference between the settings is the responsiveness and output of the throttle pedal.
Oh, and don't forget the 'B' setting on the gear selector which can be used for higher levels of brake regeneration while you're driving (especially useful on downhill stretches or when braking from speed for junctions).
But it's not just about straight-line speed, the ID.Buzz is remarkably agile on twisty country roads, only let down by the brakes which seem to have a lot of travel before they engage, meaning that slowing down requires a little more anticipation and isn't as smooth as it could be.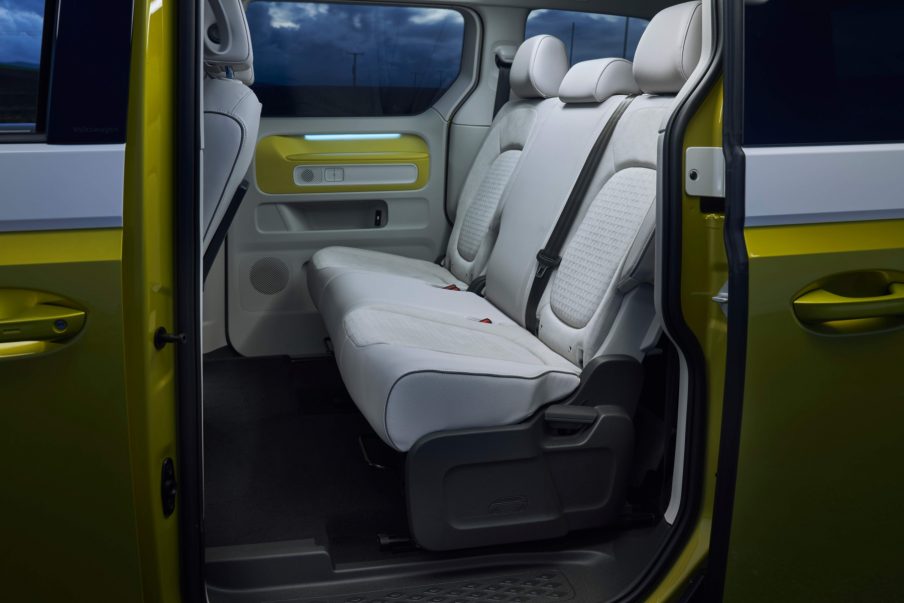 As you'd expect with an EV, it's smooth and refined. Yes, the ride is on the stiff side, so it's not so forgiving on poorer surfaces, but overall it has more in common with a large car than a van.
Add direct and well weighted steering and it seems to defy physics and definitely puts a smile on your face.
So far so good, but perhaps the biggest surprise is that the ID.Buzz is so expensive at launch. There's currently just the one model available with two trims.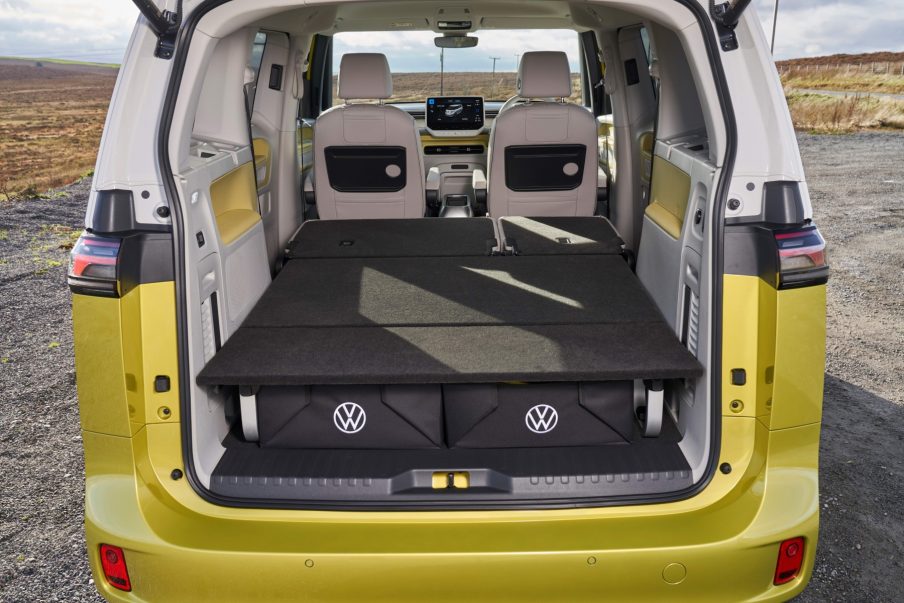 Starting at an eye-watering £58,915 for the entry-level Life spec, next up is the Style trim for £63,715. A flagship GTX will join the range soon, and it will have a dual motor four-wheel drive system.
A longer wheelbase version and camper van are also coming, and the latter will address the other current annoyance, which is the MPV cabin's lack of flexibility.
At present, the rear seats can recline and slide to either improve the cavernous boot or increase legroom if pulled forward.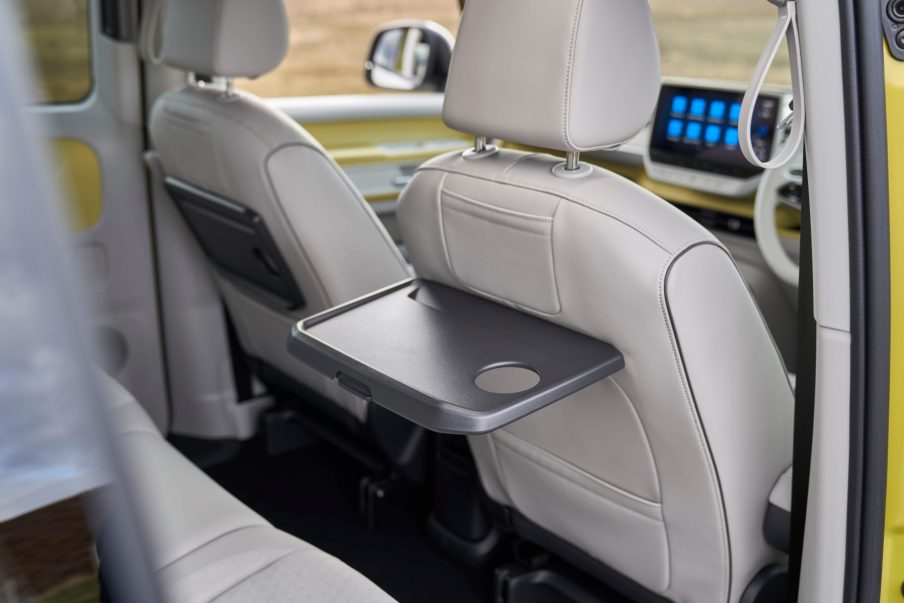 Ideally, ID.Buzz owners want to be able to swivel the front seats round and have the ability to remove the rear seats altogether.
That said, boot capacity is one of the its biggest strengths. Even with five passengers on board, there's 1,121 litres of cargo space. With the rear seats folded and pushed forward there's a van-like 2,123-litre capacity.
And a special mention for the clever 'Buzz Box' – a removable storage compartment between the driver's seat and front passenger seat.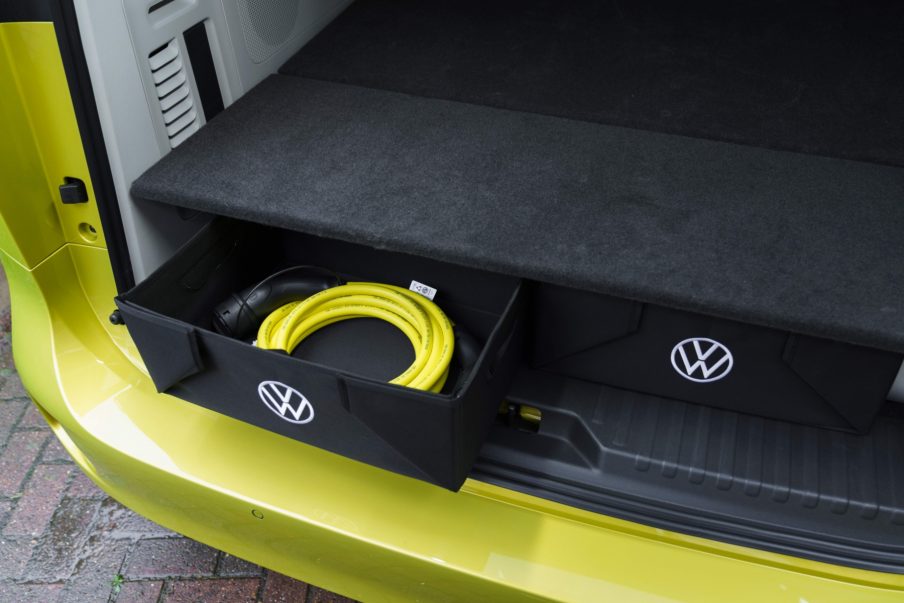 So, it isn't perfect and there's definitely room for improvement which future versions will address, but overall VW has done a great job with the ID.Buzz, which oozes style and character.
Awards for the ID.Buzz so far include Car of the Year and Best Large Electric Car at the What Car? Awards 2023, plus Best MPV and Electric Car of the Year at the 2022 Top Gear Awards. It's also packed with safety and driver assistance tech, achieving a maximum five-star Euro NCAP rating.
Verdict: Funky, functional, fun to drive, comfortable and safe, the retro-cool Volkswagen ID.Buzz has room for improvement, but such is its character, all is forgiven.
Review in association with www.automotiveblog.co.uk
---