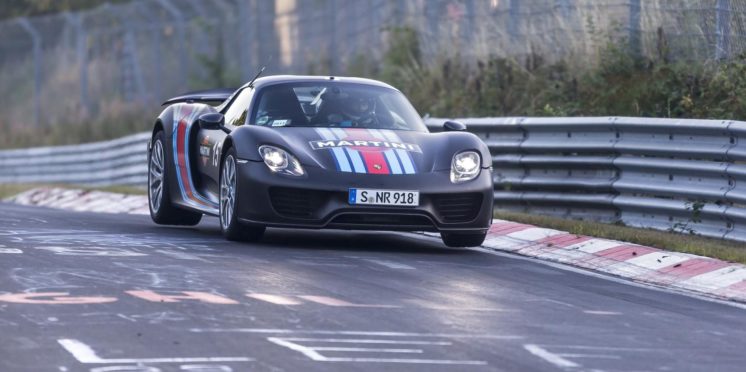 Stories behind the amazing lap times at the Nurburgring
The Nurburgring, a 12.9-mile stretch of tarmac that winds its way around the village and medieval castle of Nürburg in the Eifel mountains has become a proving ground for the world's car manufacturers as they attempt to outdo each other with ever faster lap times.
Everything from supercars to hatchbacks are driven around the 'Ring at the hands of professional drivers who post times that no mortal will ever come close to, yet just like that theoretical top speed that is constantly used in pub arguments to decide which car is better, they are used as irrefutable evidence of the technical superiority of a vehicle.
There is no doubt that valuable lessons are learned by manufacturers in the development phase of a vehicle about how it performs around the Nurburgring but striving solely for the fastest lap time can result in a car that is rather unsuited for on-road use. What is interesting when examining these times is how technology has moved on over the years, and what was considered quick not that long ago is merely average today.
So this time, instead of going through the usual top 10 list of fastest production cars ever to have lapped the Nurburgring, we take a look at some of the more interesting laps completed by a variety of cars from various time periods.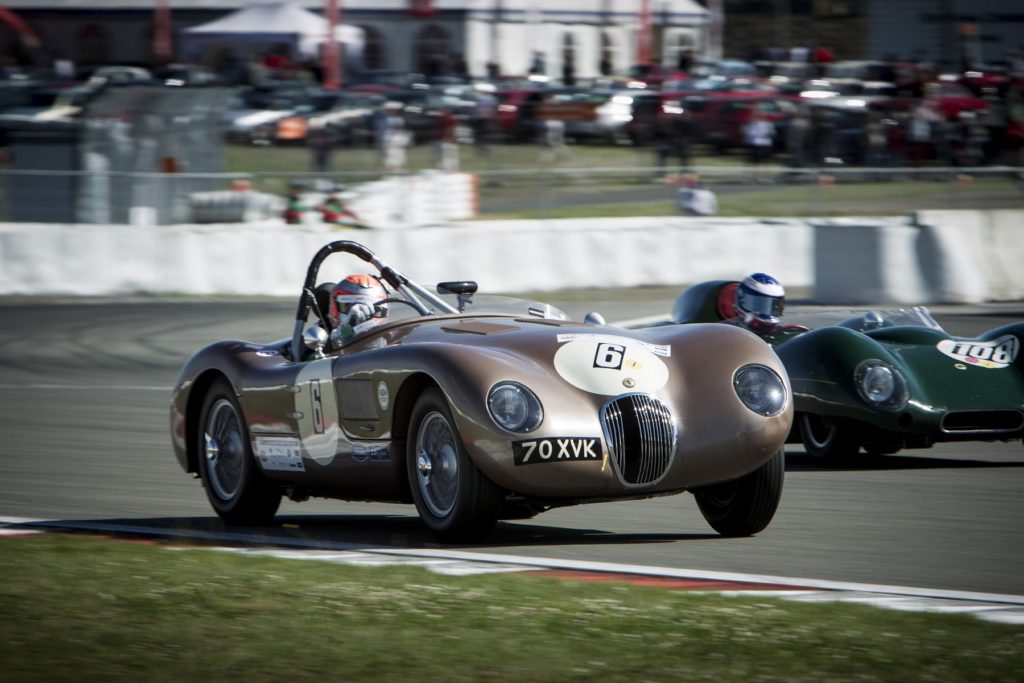 Remember: It's just a number
Bear in mind that even official lap times can vary greatly based on track conditions, driver ability and variations in the tune of the car. 
We have excluded the Radical SR8 from our production car rankings as while it can be road registered in certain countries, it is essentially a track car built for racing.
Porsche 919 Hybrid EVO
5:19.546
The 919 Hybrid Evo is the fastest four-wheeled vehicle to have ever lapped the Nurburgring, it features a 2.0-litre turbocharged four-cylinder engine with electric assistance and produces a combined 710 bhp in the derestricted setup it was in for the record lap.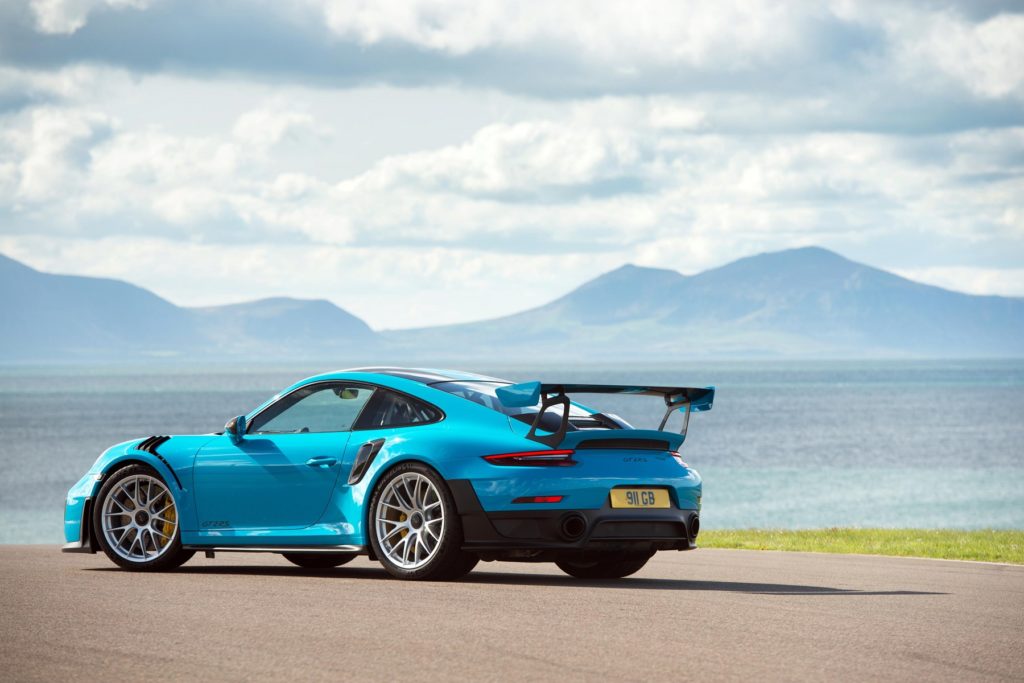 Porsche 911 GT2 RS
6:47.25
As a comparison, the fastest road-going Porsche is the 911 GT2 RS which held the production car lap record until July 2018 when the Lamborghini Aventador LP770-4 SVJ beat it by setting a 6:44.97 time. That is still a whopping 85 seconds slower than the 919 Hybrid EVO.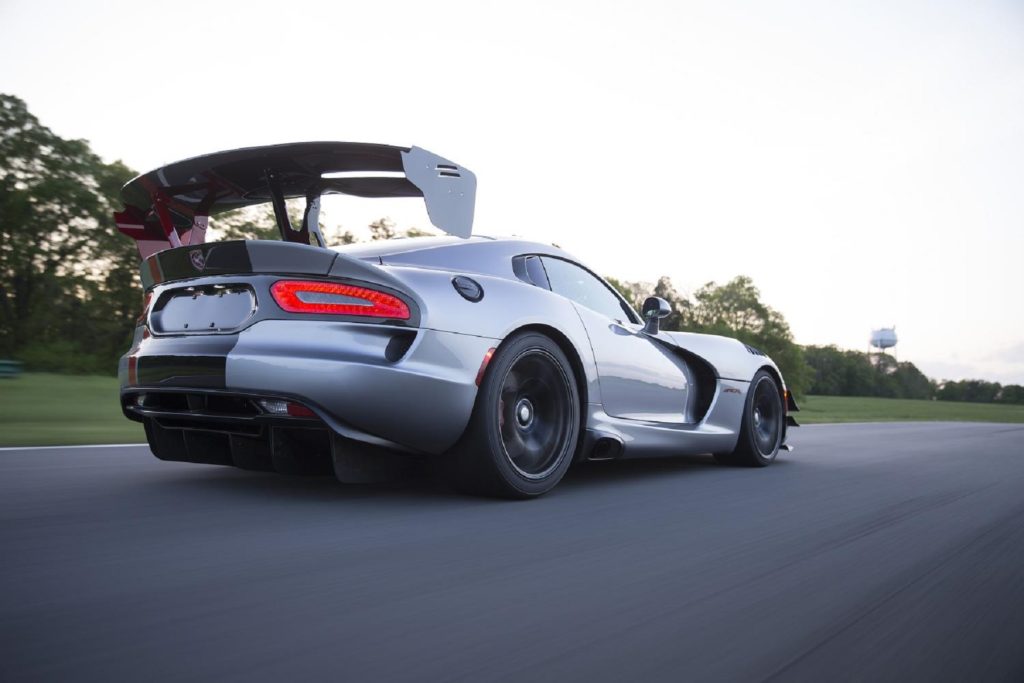 Dodge Viper ACR
7:01.3
The Viper ACR is the highest ranked production car with a manual transmission and is in seventh place as of May 2019. It is also only one of four rear-wheel-drive cars in the top ten rankings and the highest ranked American vehicle.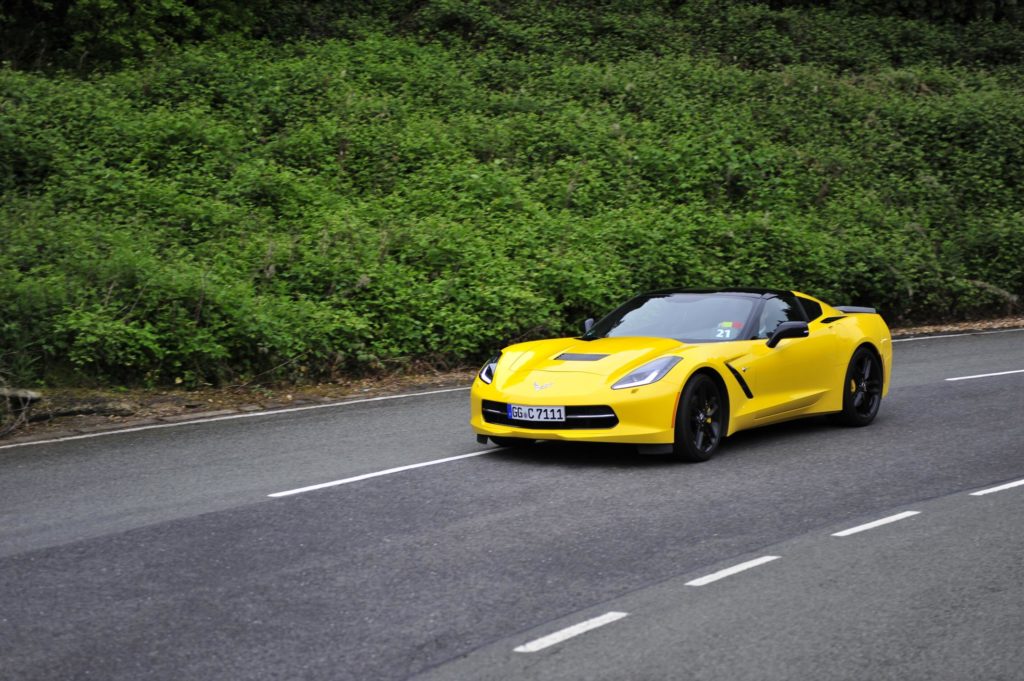 Chevrolet Corvette C7 Z06
7:13.9
The Corvette C7 Z06 posted a very impressive lap time in 2017 which was hardly a second slower than what a Porsche 918 Spyder achieved a few years earlier at the hands of Nurburgring legend Horst von Saurma. 
Then again, another 918 Spyder managed a 6:57 by racing champ Marc Lieb in 2013. It just goes to show how variable a lap of this length can be even when driven by two professionals in the same car.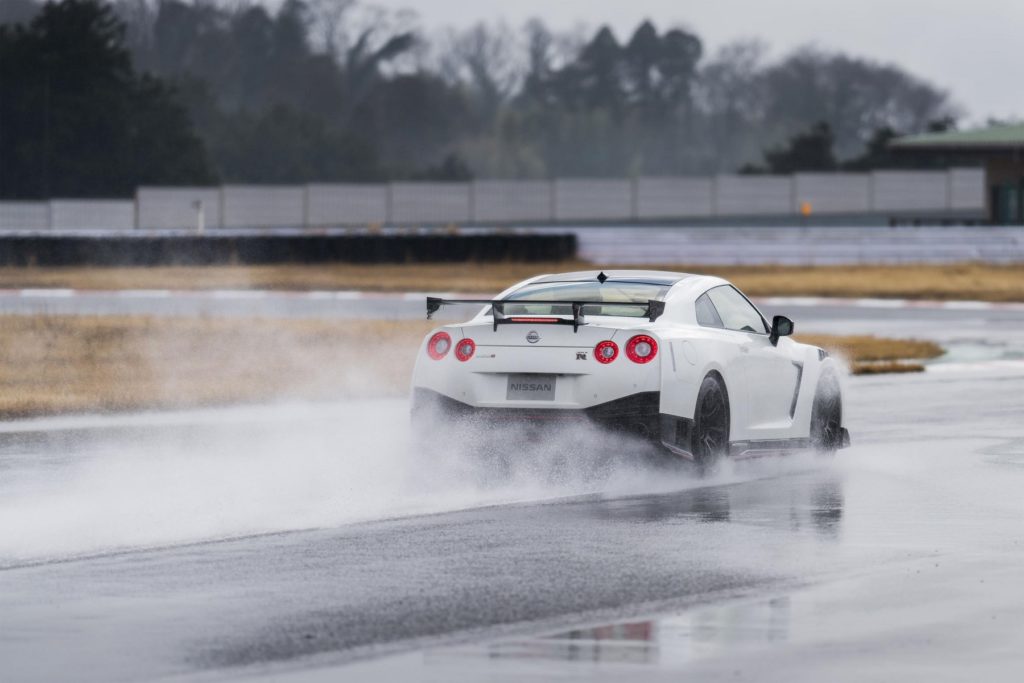 Nissan GT-R NISMO 2015
7:08.679
The Nissan GT-R has always performed well above its price bracket and the track-prepped NISMO variant is still one of the fastest road-legal cars out there. 
It is also the fastest car on the list (currently at 10th overall) that can seat four, although you will need some rather small passengers to fit into those rear seats.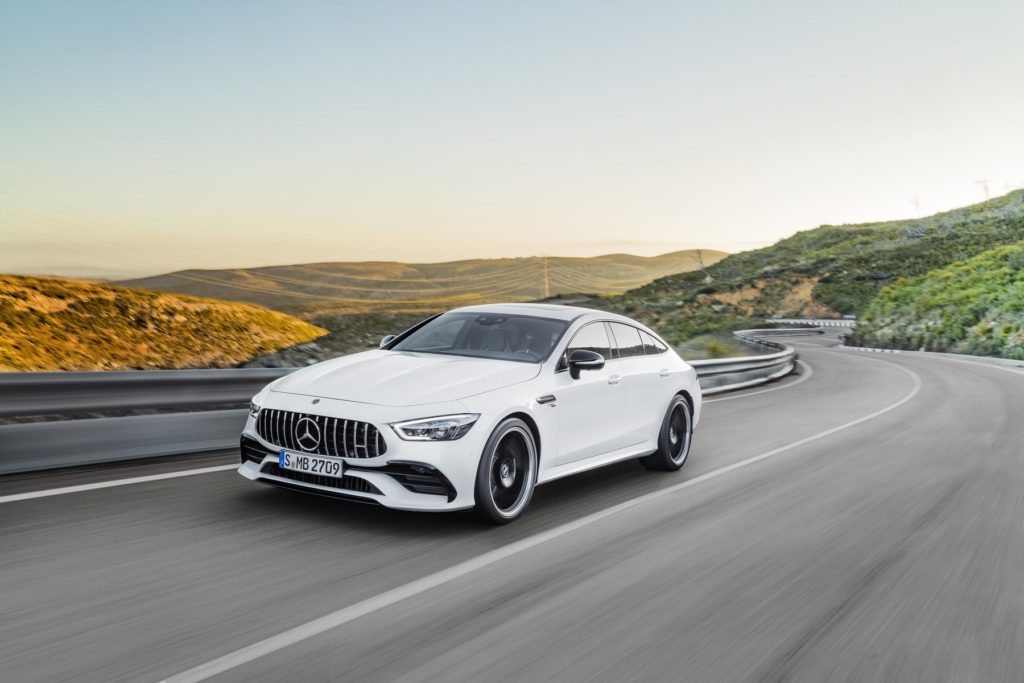 Mercedes-AMG GT 4-door Coupe 63 S 4Matic+
7:25.41
The AMG GT 4-door is the first true saloon car on the list and it can actually seat four up in comfort while still being capable of practically matching a Ferrari Enzo or Lamborghini Aventador LP 700-4 around the 'Ring.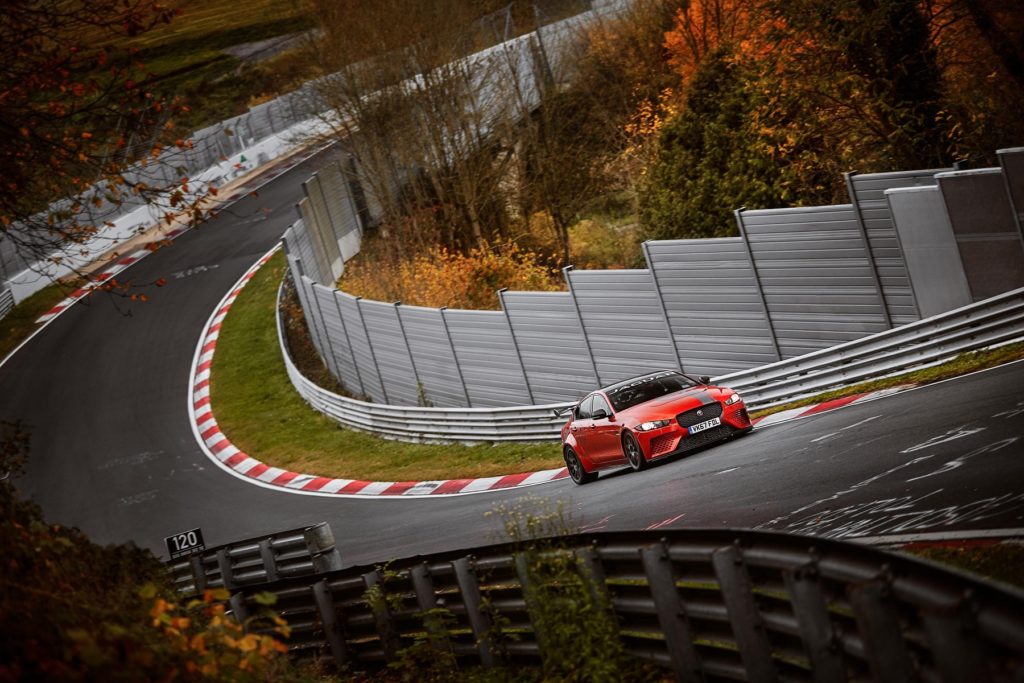 Jaguar XE SV Project 8
7:21.23
It is worth noting too that the Project 8 Jaguar also claims to be the quickest four-seater car to have lapped the Nurburgring but the one that actually set the lap time had a roll cage and only 2 seats. 
Jaguar asserts that the four-seat version would have performed identically, we will have to wait and see if they ever return to back up that claim.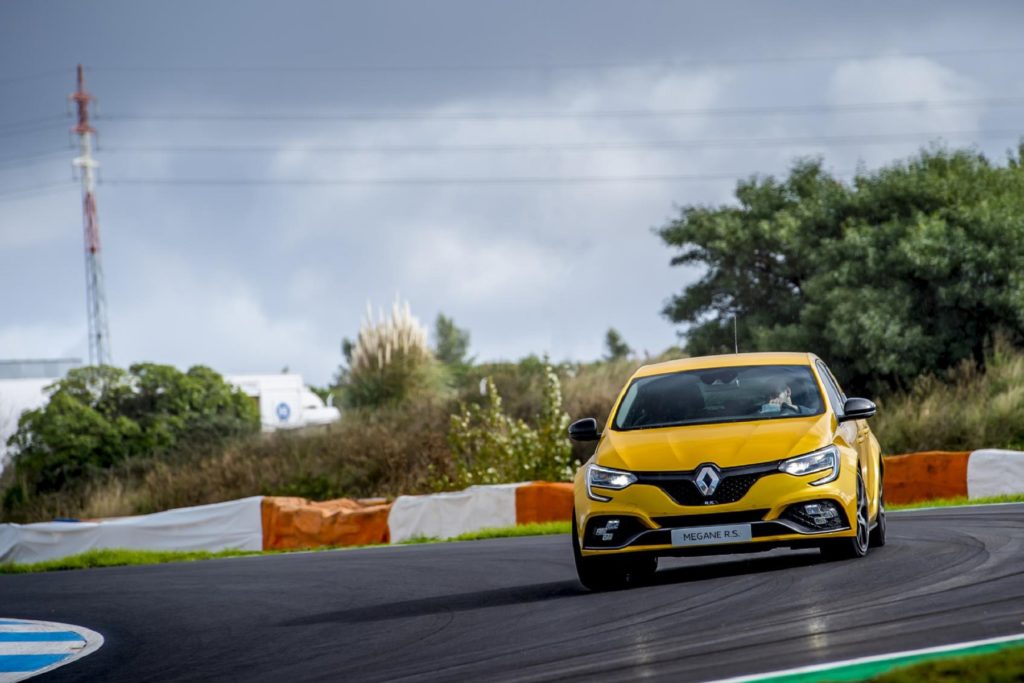 Renault Megane R.S. Trophy-R
7:40.1
Front-wheel-drive cars tend to struggle to put their power down as effectively as their RWD and AWD counterparts yet the latest crop of powerful hatchbacks are capable of seriously quick lap times. 
The current FWD champ is the Megane R.S. Trophy-R, it clinched the record in April 2019 from the Honda Civic Type R and is also faster than some very impressive machinery like the Lamborghini Gallardo LP570-4 Superleggera and Porsche Cayman GT4.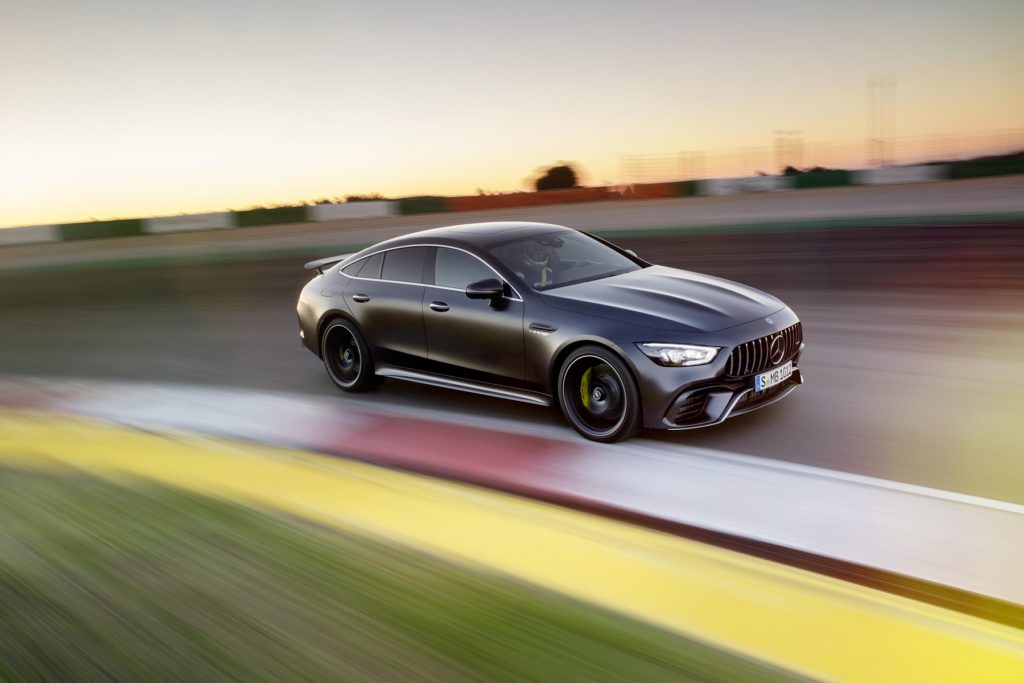 The 8-minute cut-off
Anything under the 8-minute mark is generally considered to be a very quick lap time, achieving it in a road car is impressive, doing it during one of the 'tourist' days is close to impossible thanks to the traffic and two speed limits.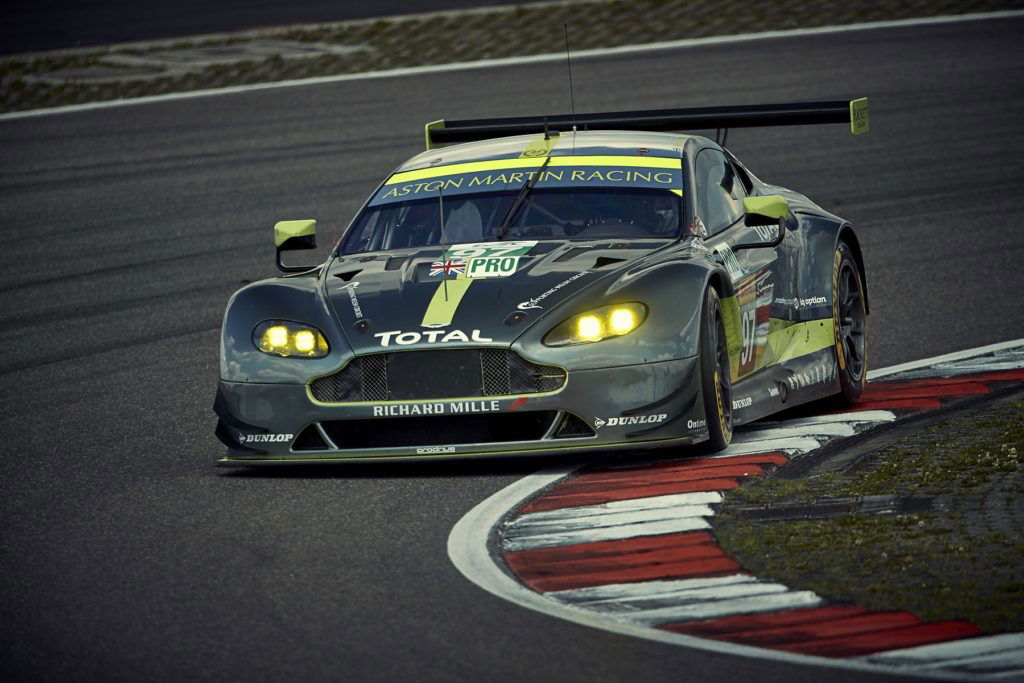 The just made it club
These cars all posted times just within the 8-minute mark:
Cadillac CTS-V (2009)
Porsche 911 996 Carrera (2004)
Nissan Skyline GT-R R33 V-Spec (1996)
Dodge Viper SRT-10 (2005)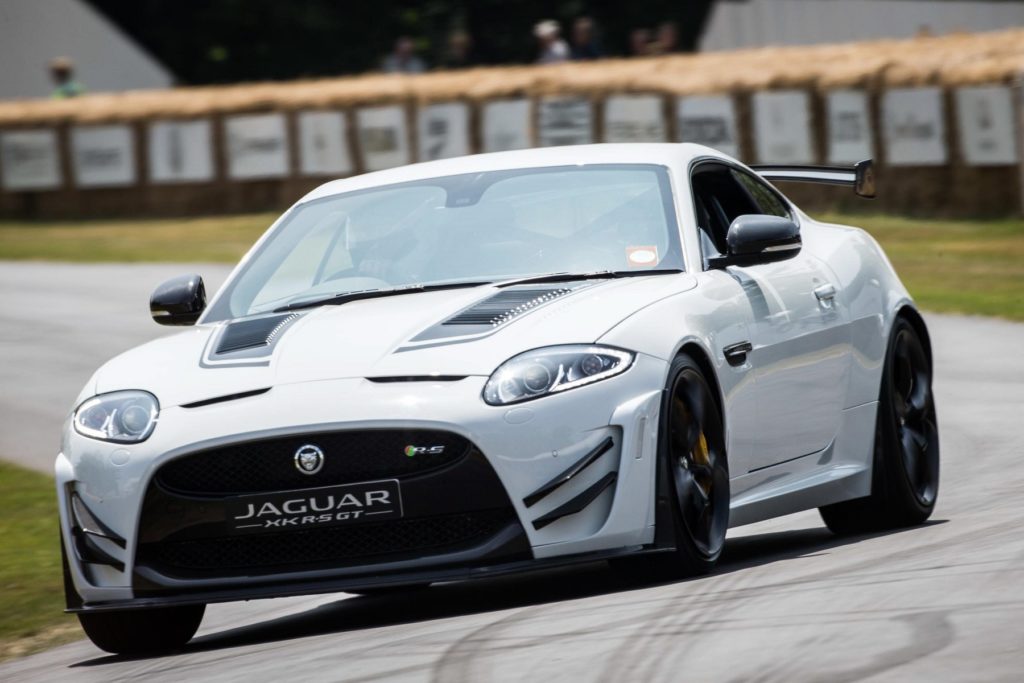 The almost there club
The following cars all posted official lap times just short of the 8-minute mark:
Nissan Skyline GT-R R33
Mercedes-Benz CLK63 AMG Black Series (2007)
Aston Martin DBS (2009)
Jaguar XKR-S (2012)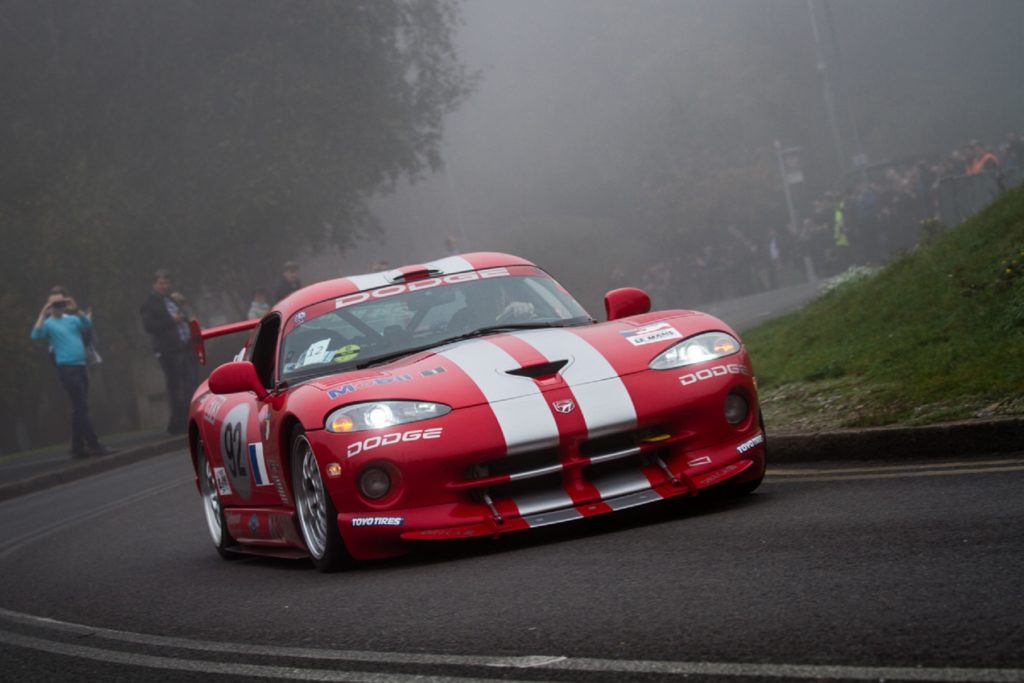 Viper Variations
The Dodge Viper is a great example of how a basic platform can be developed to perform far better over the years. The slowest time posted in recent years was an 8:13 by a Viper SRT-10 Roadster in 2007. That is a full 72-seconds slower than the 2017 Viper ACR that is now in seventh overall. 
While there are a number of differences between these two vehicles, the American Club Racing (ACR) variant has a number of aerodynamic and traction advantages that clearly make a massive difference on the track.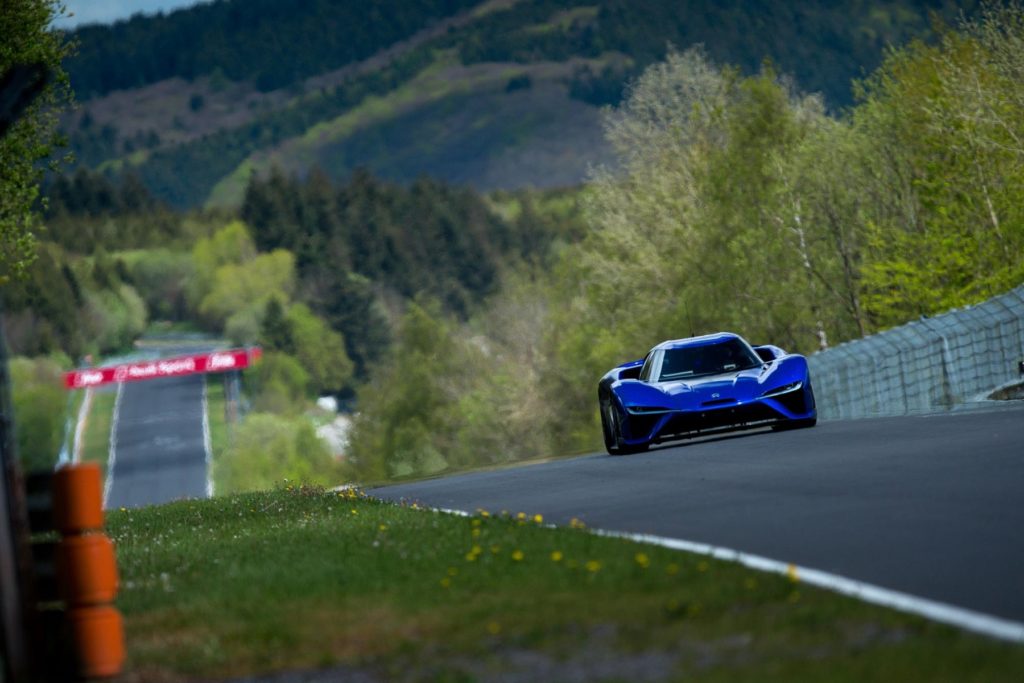 Nio EP9
6:45.90
The 1,341 bhp EP9 is currently the quickest fully electric vehicle to have lapped the Nurburgring, driving on a set of slicks it put in a lap time that is just one second behind the Lamborghini Aventador LP770-4 SVJ, although that car used road-legal tyres. 
The Volkswagen I.D. R is set to break the EP9's record later this year as it continues on its global tour of record-setting feats. Sharing much in common with the 919 EVO race car and having already proven itself with a Pikes Peak EV record, we can't wait to see how it fares at the Green Hell.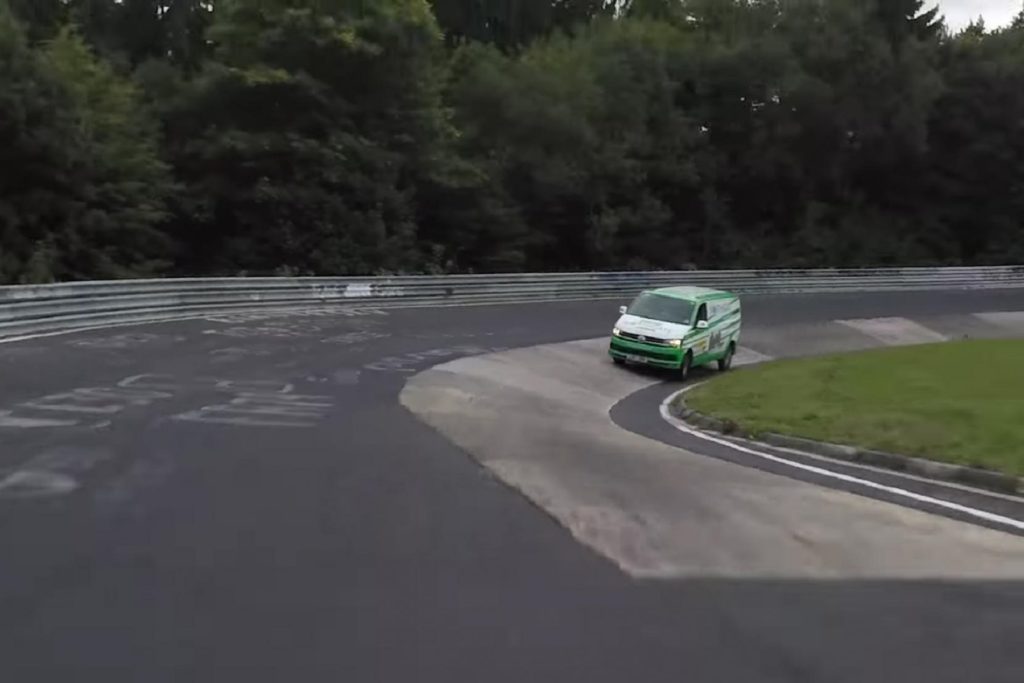 Man (or woman) in a Van
With so much attention being paid to every lap time that is posted around the circuit, there are going to be a number of publicity stunts to take advantage of it. 
Sabine Schmitz famously claimed on Top Gear that she could drive a van around the circuit in under 10-minutes and got within 8-seconds of that time in a Ford Transit. 
British Touring car driver Rob Austin managed to beat that time by 10-seconds last year in a similarly stripped-out VW Transporter.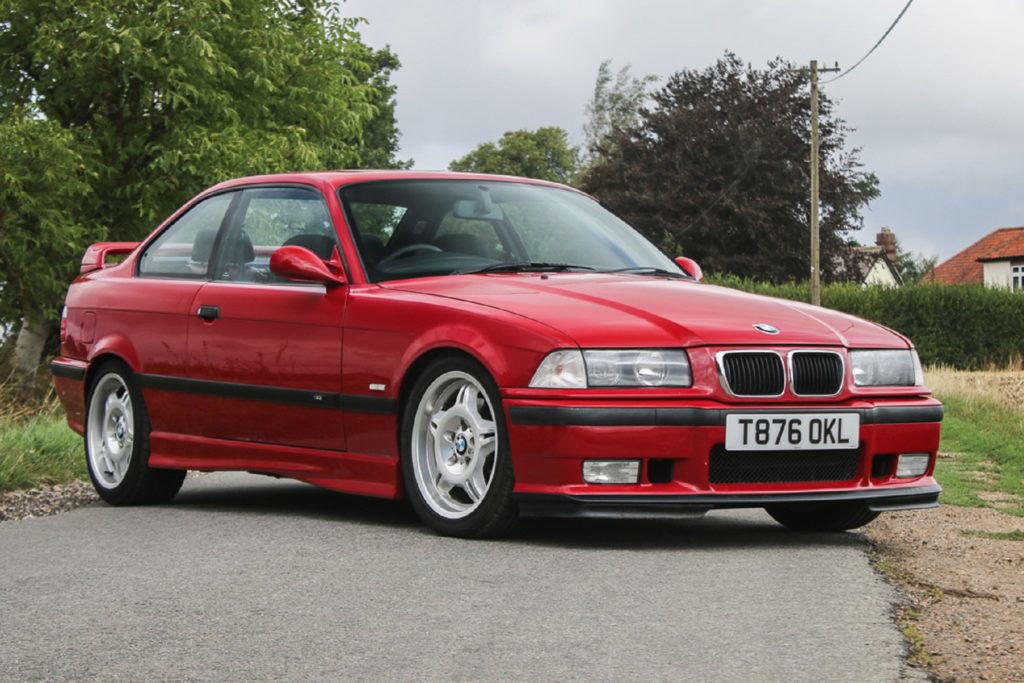 Past Legends
So, what about the modern classics that used to be class-leaders back in their day? It looks like technology has moved the game on in no uncertain terms here.
Ferrari 355                   8:18
BMW E36 M3              8:22
Porsche Carrera 993   8:28
Honda S2000              8:39
BMW E30 M3              8:50
---