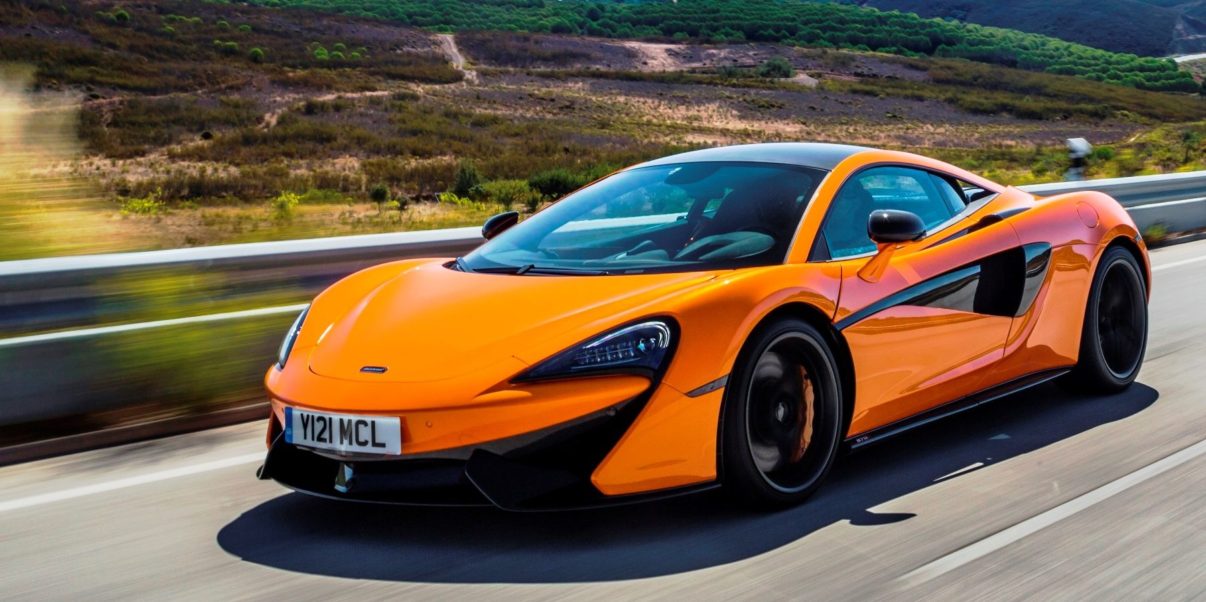 McLaren 570S Coupe: the everyday supercar driven
Any car finished in Ventura Orange stands out. Even more so when it's as stunning as a McLaren. Other colours available are equally eye-catching – especially Mantis Green.
The McLaren 570S is supposed to be more sports car than supercar – up against rivals such as the Porsche 911 Turbo S and Audi R8 V10 Plus, rather than Ferraris and Lamborghinis.
As McLaren Automotive CEO Mike Flewitt explains, it's "the most day-to-day usable, practical and attainable McLaren we've ever made".
In many ways he's right. Priced from £143,250 it costs about the same as its rivals, and it's certainly one of the less expensive cars in the McLaren range, but can something as exotic looking as the 570S be an everyday car?
In short, yes, partly because once you get up close, it's not as daunting as you might think.
The design is clearly aerodynamically optimised, featuring a wide grin at the front, sweeping sides, flying buttresses and a complicated rear diffuser.
Pop open the massive scissor doors (McLaren calls them 'dihedral') and you're greeted with a cockpit that's refreshingly minimalist, if a little hardcore. The centre console is dominated by a generous touchscreen infotainment tablet, while the sculpted sports seats are finished in leather and offer a multitude of adjustments for driver and passenger.
Slip inside the comfortable driver's seat and you can only marvel at the mass expanse of windscreen ahead.
Hit the 'Start' button select 'Normal', 'Sport' and 'Track' drive mode and you're away. Simply let the seven-speed transmission do its stuff automatically at first, then use the paddles behind the steering wheel when you're feeling brave enough.
Driving the 570S can be as easy as that. However, the performance of the twin-turbo 3.8-litre V8 behind your head cannot be underestimated. Producing 570PS (562bhp), it's capable of 328 km/h (204mph), 0-100km/h (62mph) in 3.2 seconds and 0-200km/h (124mph) in 9.5 seconds.
And believe me, the acceleration is every bit as gut-wrenchingly quick as the stats suggest. In everyday traffic the 570S is a surprisingly relaxed drive. It can pull away from junctions and traffic lights as smoothly as the next car and there's great forward visibility.
Allow it to stretch its legs on the open road and it's impossible to stifle a smile thanks to the pin-sharp handling and a glorious soundtrack from behind your head.
The ride is firm, but not uncomfortably so. Crank up the drive mode into 'Sport' and 'Track' and the gearbox sharpens up with lightning-fast changes and the suspension stiffens.
The steering is perfectly weighted and precise, while the grip through corners and traction under acceleration is phenomenal. Stopping power is hugely impressive too, thanks to the 570S's carbon ceramic brakes.
Unlike some sports cars, there's storage space behind the seats and room for a modest amount of luggage (144 litres) under the bonnet. The 570S is also the first McLaren fitted with vanity mirrors and there's even a glovebox and door pockets. As you'd expect, rearward visibility isn't the best, but the reversing camera and the large screen make up for it.
Hand crafted in the state-of-the-art McLaren Production Centre in Woking, England, the build quality is superb. Apparently each car takes "188 man hours" to build.
As with every McLaren designed and developed for the road or track since 1981, the heart of the 570S is a lightweight carbon fibre chassis. This helps it achieve some surprisingly decent fuel efficiency and emissions figures for a member of the 200mph club. In theory it can return 26.6mpg (10.7/100km) with CO2 emissions of 249g/km. It's also the first McLaren to be fitted with a stop-start engine, again aiding economy.
The 570S comes with a three-year unlimited mileage warranty and requires yearly servicing with an oil change every two years or 10,000 miles (15,000km), whichever comes first.
Aluminium is used extensively for body panels, meaning that it's easier to repair than the composite seen on previous McLaren models. As a result, repair work is easier and cheaper in the event of an accident.
Verdict: McLaren has created a surprisingly usable sports car. In fact, I'd go as far as calling it an entry-level supercar, for while it's squaring up against cars such as the Audi R8 and Porsche 911 Turbo, it boasts the thoroughbred driving experience, looks and tech you'd expect to find in a Ferrari. The only frustration is that it's virtually impossible to enjoy the 570S to the full without venturing onto a track.
Review in association with H Edition Magazine – the monthly publication dedicated to Business, Economy, Luxury, Lifestyle and Culture.
---